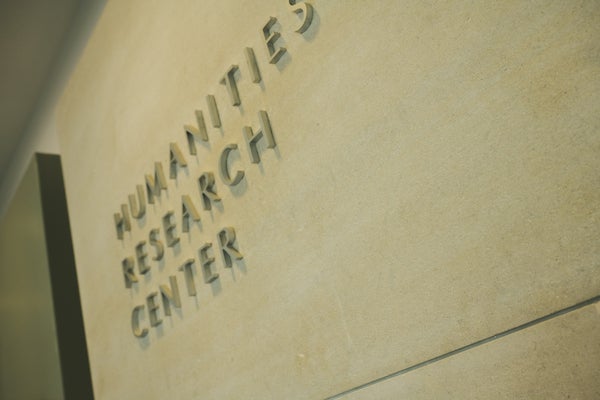 The Humanities Research Center (HRC) in the School of Humanities is an internationally recognized hub for fostering innovative intellectual inquiry in the humanities and the arts at Rice University.
Created in 1987, the HRC is engaged in a process of transformation and renewal led by the center's faculty council, which is represented by five faculty members across departments and ranks, and the School of Humanities dean and associate deans. We envision a center that shapes and supports research and engagement practices that are locally rooted and globally linked; advances graduate education beyond disciplinary bounds; and raises the visibility and impact of our scholarship and public engagement on key areas of humanistic inquiry.
The HRC will foster new connections and collaborations for humanistic and artistic endeavors across campus. As a conduit, convener and catalyst for critical scholarship, it will bridge divides and produce synergies. And just as important, it will be outward facing, galvanizing and strengthening ties between the center and national humanities foundations and associations, including the Consortium of Humanities Centers and Institutes (CHCI) — indispensable partners in addressing the challenges facing the humanities and the arts both within our institutions and in the broader public sphere. To that effect, the HRC and the School of Humanities have recently activated our participation in national and international organizations that highlight innovative humanities research, lead transformations of humanities PhD training and encourage innovation in humanities undergraduate education. Rice University and the School of Humanities accepted the invitation of the American Council of Learned Societies (ACLS) to join its Research University Consortium, a leadership group in the academic humanities and interpretive social sciences. In this, we join 39 leading universities and peer schools committed to excellence in humanities research.
In envisioning the HRC as a newly reinvigorated research hub, we aspire to better serve the ambitions of our faculty, students and their collaborators. We aim to offer support for an infrastructure and resources needed to pursue reading groups, humanities labs, lecture series, art exhibitions or performances on topics as diverse as social and racial injustice; humanities theory, concepts and methods; democratic futures; and climate change and environmental justice; among others. We aim to advance our public humanities engagement, especially in the arena of graduate training, and engage the digital humanities expertise on campus in fostering these inquiries.